SWMENA Research Partner
The Institute for Women's Policy Research (IWPR)
website:
http://www.iwpr.org/
location:
Washington, D.C., USA
Since 2009, IFES and the Institute for Women's Policy Research have been united in the goal of enhancing knowledge surrounding the status of women in the Middle East and North Africa. Based on IWPR's ongoing Status of Women in the States work, IFES and IWPR SWMENA teams have worked closely to conduct research, design and implement survey campaigns, analyze data and produce topic briefs, and collaborate with regional partners to produce country reports.The IWPR SWMENA team is also producing, with the feedback from IFES and others, an NGO capacity-building tool kit. IWPR has proved an invaluable partner to the SWMENA cause, and continues to provide essential information and perspective. Please click on the partner name to find out more about their work on SWMENA and other projects.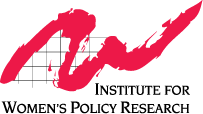 About
The Institute for Women's Policy Research conducts rigorous research and disseminates its findings to address the needs of women, promote public dialog, and strengthen families, communities, and societies. Founded in 1987, IWPR leads the U.S. think tank industry focusing primarily on domestic women's issues and works in five key areas: employment, education, and economic change; democracy and society; poverty, welfare, and income security; work and family; and health and safety.
What IWPR is Doing
Working to refine a tool-kit for community leaders using research for action that will target small, start-up women's NGOs in the Middle Eastern and North African communities.
Assisting in IFES' collaboration with regional advisors in writing of country reports.
Attending the Regional Lessons Learned workshop in December to discuss the results of the SWMENA program and the impacts in all three countries.
Their Impact
Along with IFES, IWPR drafted comparative and country specific survey questions based on gaps in data.
IWPR and IFES analyzed survey results to produce detailed and informative topic briefs available in English, French, and Arabic.
Along with IFES, IWPR presented survey data to local women's advocates from Lebanon, Morocco and Yemen.
IWPR provided input into SWMENA country reports.