IFES Releases Data on the Status of Women in Egypt and Tunisia
Thu, December 01, 2011 - 11:08:39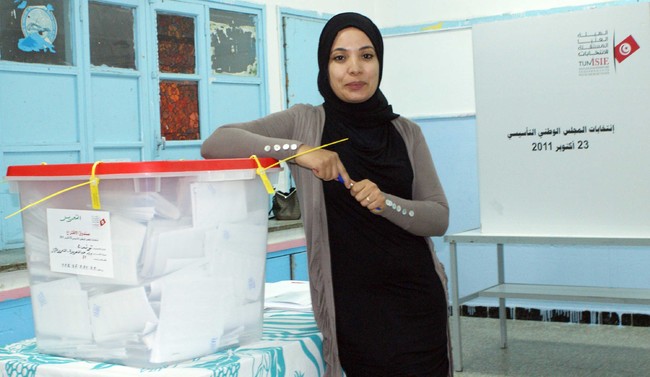 Tunisian Poll Worker next to a full ballot box at the end of Election Day. Nicolas Kaczorowski/IFES
As part of IFES' pre-election questionnaire, a gender module was introduced to measure opinions on women in political roles, knowledge and opinions on gender quotas, and preference for male or female candidates in elections.
The concept of gender quotas is little known in both Egypt and Tunisia. Amongst Egyptians familiar with the concept, support for their adoption is mixed. By gender, not only do more men oppose gender quotas, a statistically significant percentage of them strongly oppose gender quotas, whereas more women strongly support gender quotas. Eighty-seven percent of Tunisians and 77 percent of Egyptians said they were not familiar with the notion of gender quotas - despite Egypt having a gender quota in place before the revolution.
In Tunisia, there is support for their introduction in future parliamentary elections amongst those who are aware of gender quotas. There is also majority support for the gender list parity that is part of the upcoming National Constituent Assembly elections.
Views on women's participation as candidates are also mixed, with less support among men. Over one-third of men in Egypt oppose women in various political roles - even a contingent of women opposes women in these roles. Eighty-three percent of Egyptian men and 68 percent of Egyptian women would prefer a male legislator.
Despite majority support for women in various political roles, opinions differ when discussing voting for a women president/legislator versus a man. While 63 percent of Tunisisans reported that they would not vote for a female president, women are more likely to say they would (40%) than men (24%).
Similarly, even though most Egyptians say they support women in political roles in theory, when asked whether they would in practice prefer a male legislator or a woman legislator to represent them in parliament if they were equally qualified, Egyptians overwhelmingly would prefer a man to represent them in parliament.
A more in-depth analysis of the Egypt and Tunisia data will soon be available for comparison with SWMENA countries Lebanon, Morocco, and Yemen. For further information please contact Ambar Zobairi, [email protected].