Resources
Thu, April 12, 2012 - 1:18:26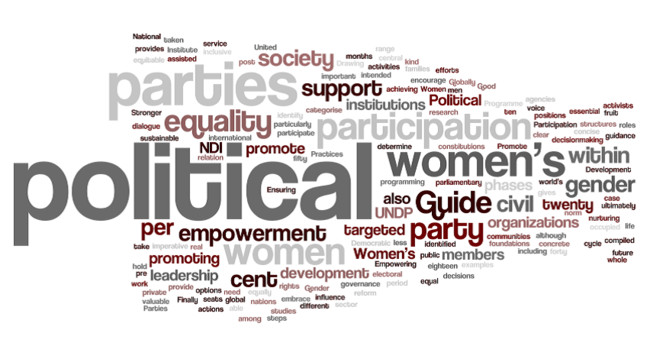 Women's Political Participation
• Democracy and the Challenge of Change: A Guide to Increasing Women's Political Participation, National Democratic Institute, 2010.
• Advocacy & Running for Office: A Training Manual for Women, Edited by Stephanie Foster for Vital Voices, 2009.
• Advancing Governance through Peer Learning and Networking: Lessons Learned from Grassroots Women, Prepared by Monika Jaeckel for UNDP.
BRIDGE Gender and Citizenship.
Lead to Action: A Political Participation Handbook for Women, Women's Learning Partnership, 2010.
Empowering Women Elected Officials
• Empowering Women for Stronger Political Parties: A Good Practices Guide to Promote Women's Political Participation, UNDP & National Democratic Institute, 2011.
• Fundraising Tactics for Women, By Mary Pieschek for the Women's Democracy Network, 2006.
http://www.idea.int/publications/quotas_arab_world/index.cfmThe Arab Quota Report: Selected Case Studies, IDEA, 2007.
Women in the Peace Process
• Make Room for Peace – A Guide to Women's Participation in Peace Processes, Kvinna till Kvinna, 2011.